Universal Design: The Sliding Barn Door
In the course of anticipating current and future needs in terms of physical accessibility, the fear of undertaking a major remodel or construction project can often hinder just how one goes with their quest for barrier removal, especially for those with older homes or smaller real estate. Doors, especially in today's mass-market tract homes, can often times be the focus of many sleepless nights with too-narrow openings and door panels that occupy floor space essential to maneuverability. Increasing a room's footprint or structural layout, modifying wall framing for new, wider door openings, and even the possibilities that await inside a wall all become major concerns. Instead, all of these concerns may be alleviated with out of the box thinking, using a style of door originally designed to span large scale openings in traditional barns. Just what is it that makes these standards of functionality perfect for maintaining true accessibility?
Replacing an Existing Swing Door with a Barn Door can make even Small Spaces Accessible for those with Limited Mobility.
The average residential swing door occupies up to 9 square feet of floor space, the door itself opening into space vital to the maneuverability of those in wheelchairs or with limited disability. A sliding barn door, instead, occupies almost no floor space and stores out of the way against the adjacent wall. The result? Even rooms with limited real estate such as bathrooms and pantries can become more accessible without changing their footprints.
PRO TIP: Remember to think about any obstruction at adjacent walls that may inhibit the operation of a sliding door panel. And don't forget to pay attention to light switches...The right wall for your door may mean moving an existing switch.
Required Minimum Clearances for Openings Often Exist After Removing an Existing Swing Door & Frame.
To meet ADA standards, the clear width of any opening must be a minimum of 32 inches keeping in mind that this dimension is from the face of the door panel and the inside stop of the frame. Typical construction standards provide for either a 28" or 30" door panel into major rooms such as bedrooms, not nearly enough clearance for an occupant in a wheelchair. Removing the door panel and casing, repairing the resulting opening, and replacing with a wall mounted sliding barn door can easily result in a gain of 4 inches, all with only minor modifications to existing construction.
PRO TIP: Making modifications to the existing opening is a good time to add additional bracing inside the partition, especially important for specialty and ultra heavy sliding doors.
A Well Balanced, Correctly Installed Sliding Barn Door can be Nearly Effortless to Operate.
Whether a newly created solid wood panel or an actual re-purposed barn door, a sliding panel door can easily clock in at 250 to 400 pounds. However, the well-engineered track and slider systems offered by companies like Rustica Hardware offer a bevy of features that make moving these behemoths as simple as a light push from two fingers. Soft closers, a fairly new addition to the Barn Door industry, ensure fingers don't find themselves in a pinch while concealed electric openers and motion sensors mean that opening and closing can be as effortless as a wave of the hand. Furthermore, unlike traditional swing doors, barn doors can be operated while sitting/standing stationary rather than needing to maneuver around the door panel for access.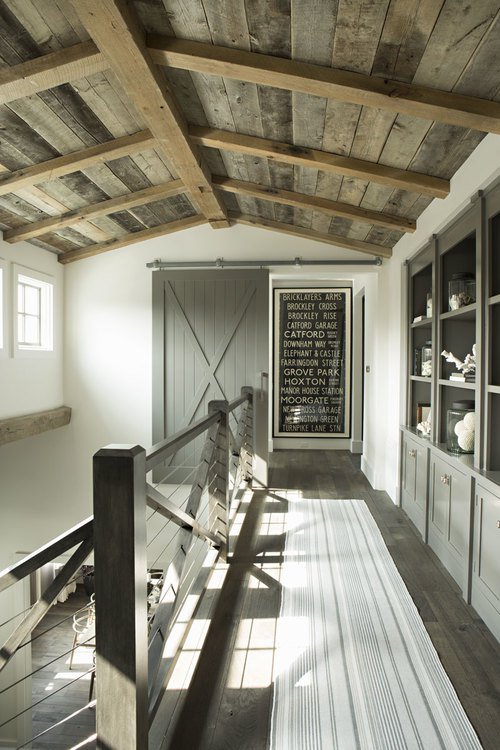 PRO TIP: Selecting hardware for your barn door is not the time to be frugal. Quality tracks, glides, and sliding mechanisms can be pricey but consider first the weight of the door panel itself and the daily wear the door will incur. Selecting a well made product, even if it costs more, will ensure you're not replacing it anytime soon.
Swing Doors, when Made Truly Accessible, have Limited Hardware Options. The Sliding Barn Door Offers a World of Choices.
Accessibility requirements dictate that the hardware used to operate a door must be operable with one hand and without tight grasping, pinching, or twisting of the wrist often leaving only lever style handles and push button type locks the traditional option. With the only required physical action being a push or pull maneuver as well as no need for a "catch" as in traditional doors, hardware options for sliding bar doors are endless. From recessed hardware and loops of leather, to overscaled ring style hardware or even no hardware at all (for those with automatic closers), a sliding barn door means not sacrificing aesthetics and detail for the sake of function.
PRO TIP: We recommend getting touchy feely with hardware options before making a final decision. Though aesthetics are always important to CGID, pulls and locks should continue to maintain proper functionality and physical ergonomics.
--
With Design Options Being Limited only by One's Imagination, Sliding Barn Doors Mean Never Sacrificing Luxury & Design for Barrier Removal.
Aesthetics are important. And there is no sense in giving up a taste for great design simply to remove barriers at home. Extensive standard and custom hardware collections pair with door panels of nearly every material including glass, resin, reclaimed wood, and stone to become a stand-out design element in the planning of a room's decor. The only limits to your door are your imagination and your budget.
PRO TIP: Avoid falling prey to trends when selecting the components for your barn door. With the right materials and quality construction, your door will be around for quite some time.

Corinne Gail Interior Design did not receive compensation for this post. All images copyright Corinne Gail Interior Design unless otherwise noted and may not be used without permission.